Friend,
What a long week!
My daughter just turned 7 this past Tuesday and before her birthday with all her friends from school, she had 2 birthday dinners with family and then to wrap all that up, yesterday was the final party with our entire family at the house!
One spoiled little girl, but the excitement us parents get to see on our kids faces….. worth everything in the world!
Now it's back to the grind this week and speaking of excitement…..
I've had quite a bit of emails coming to me in the last 2 weeks expressing excitement about Tanglewood this Friday night!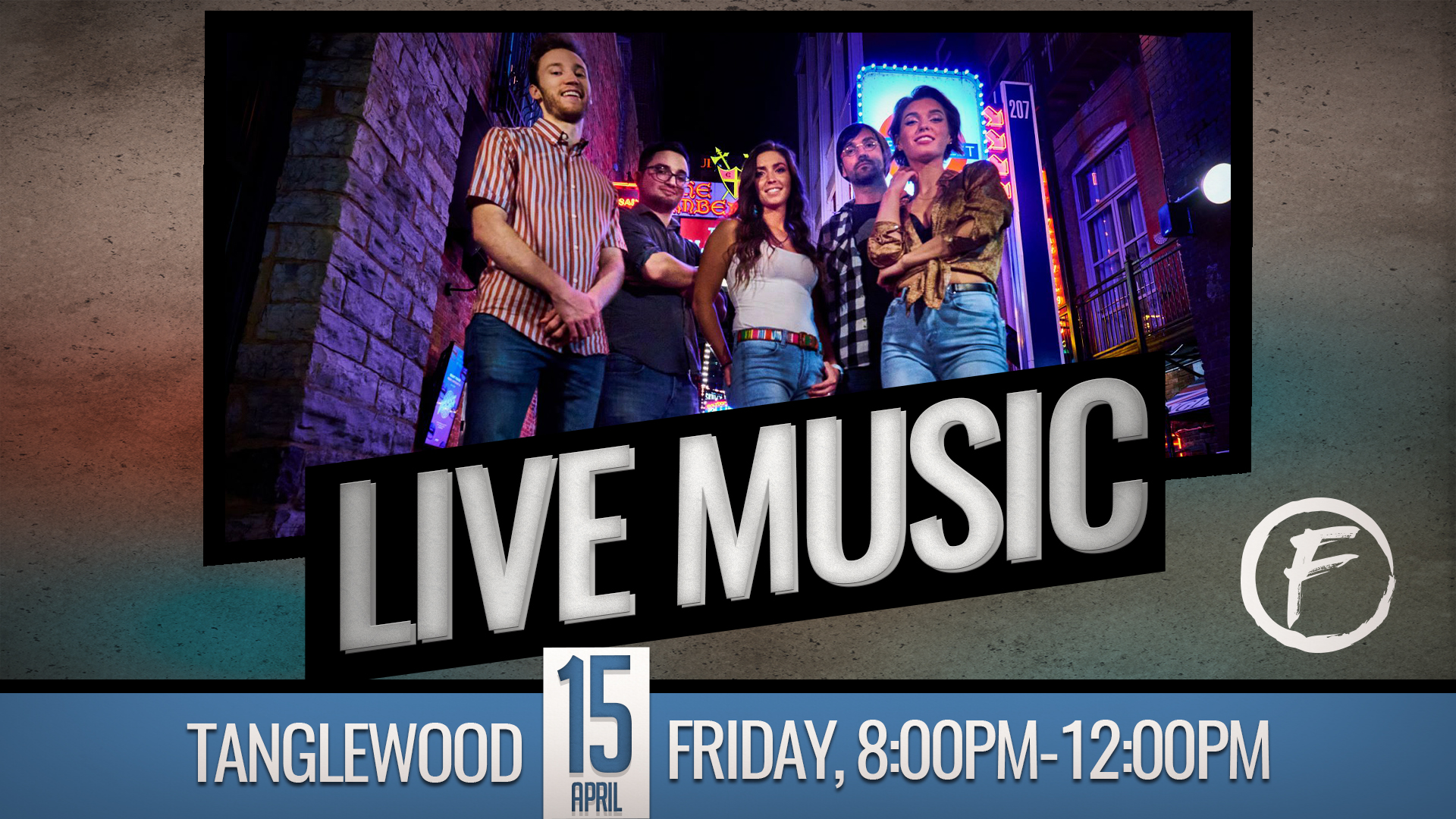 We've never had them before but we're hearing they put on an amazing show!
Tanglewood is a high energy band with influences of country, rock and pop, who has called Nashville home since 2019. Each member of the band brings their own unique energy & style to the group that makes Tanglewood one of a kind.
Their leading lady, Victoria Gibson, got her start when she made it to the top 24 on CMT's 'Nashville Star' in 2007, and the final 6 on the same network's 'Can You Duet,' in 2008.
Backed by some of Nashville's finest up and coming musicians with her sister at her side, Tanglewood brings the party with a wide array of covered & original music ranging from classic country to modern pop/rock hits.
The band is versatile enough to play songs across many artists and genres including Marren Morris, Brothers Osborne. The Beatles, John Mayer, Fall Out Boy, AC/DC, Kelly Clarkson, Tom Petty, The Killers, Dixie Chicks, Little Big Town, Blake Shelton, Dolly Parton, and Shania Twain to name a few.
Wild Bar Bingo Starts
This Wednesday 6-8pm
What is Wild Bar Bingo?
Instead of calling out numbers, we are calling out bar "slogans" like drinks, brand names, slang words used in a bar, and our favorite food items! Winners will win gift cards, free meals, Fozzy gear, and more! After each game of Wild Bar Bingo we will host mini competitions like first to hit a bullseye, flippy cup, B-Pong, and more for more prizes.
If you're looking for a fun experience while you have some dinner and drinks, it doesn't get any better than this! Come see us every Wednesday night from 6-8pm for Wild Bar Bingo!
General Trivia This Tues
Join us for general trivia night from 7-9pm this Tuesday and next Tuesday will be round 2 of 80's + 90's music trivia.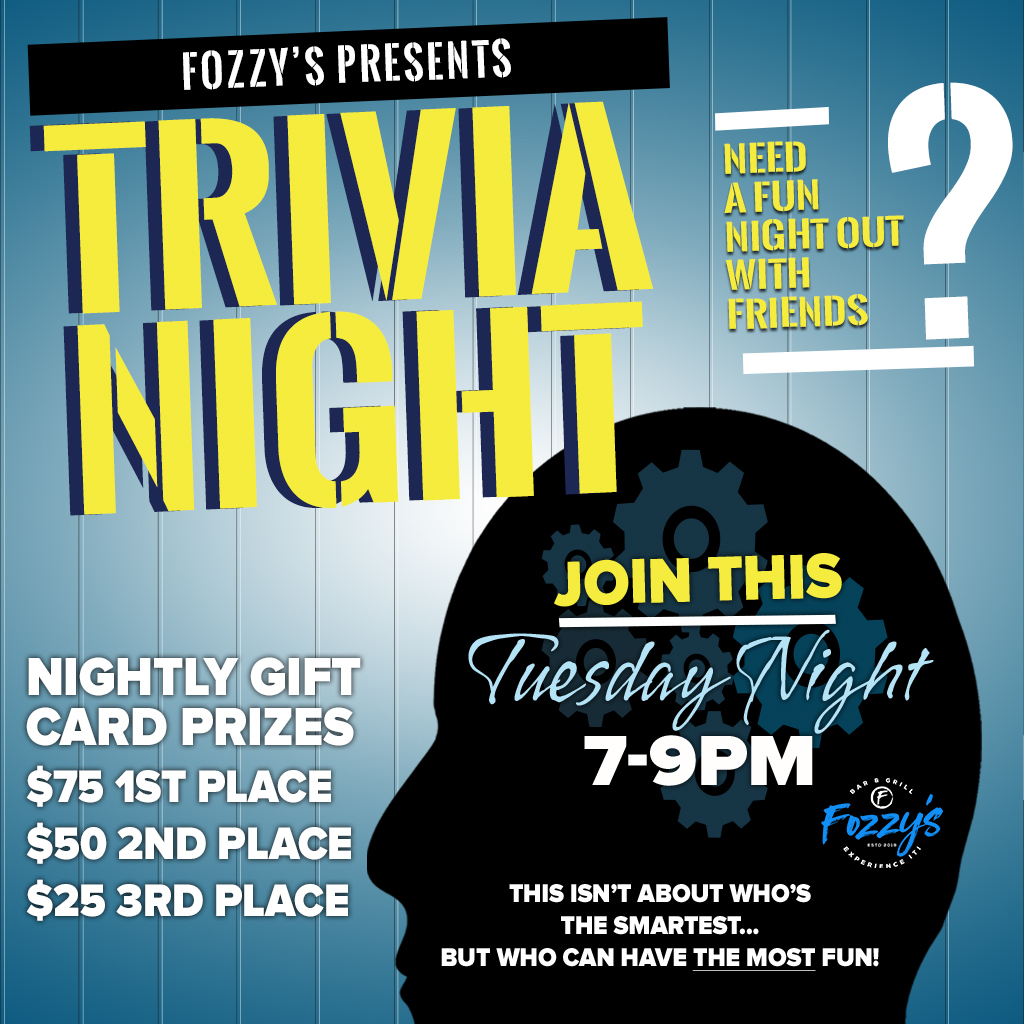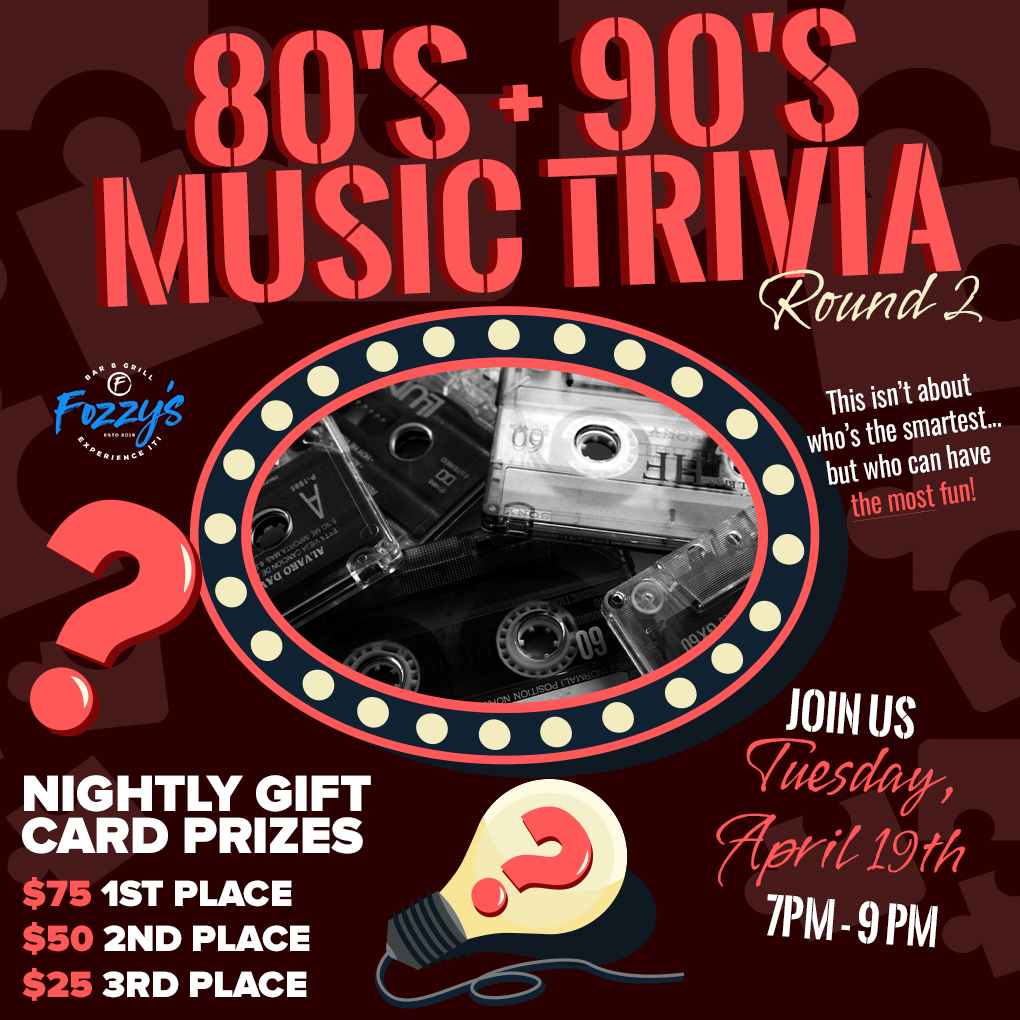 Last but not least…
The joker drawing on Thursday has finally hit $2,000!
Yes, you've got a chance to win this, along with many other awesome prizes from 6-8 on Thursday night!
Cheers,
Nick "Fozzy" Fosberg
PS. Last week I told you we had a new feature menu coming out… I should have final design done by end of today and will share with you later this week.
If we can get it printed and shipped here in time, we can possibly get this ready to go by next Wed!
Cheers,
Nick "Fozzy" Fosberg